A backyard archery range can save you time and make it easier to practice daily. You can make it happen with a hay bale, PVC pipe and ingenuity. Before you know it, you'll be practicing archery each morning in your pajamas.
First, though, realize that laws governing backyard ranges vary, so check your city's rules, regulations and ordinances. If you can practice in your backyard, make sure you're properly equipped for target distances, draw weight and arrow type before you start shooting.
Consider using a bag target or foam block target. Bag targets are ideal for broadheads and high-poundage bows. Block targets are ideal for arrows with field-points or target-points, and lower-poundage bows. You can set these targets on the ground or suspend them from a frame. You can buy a target stand or build one from wood or PVC pipe.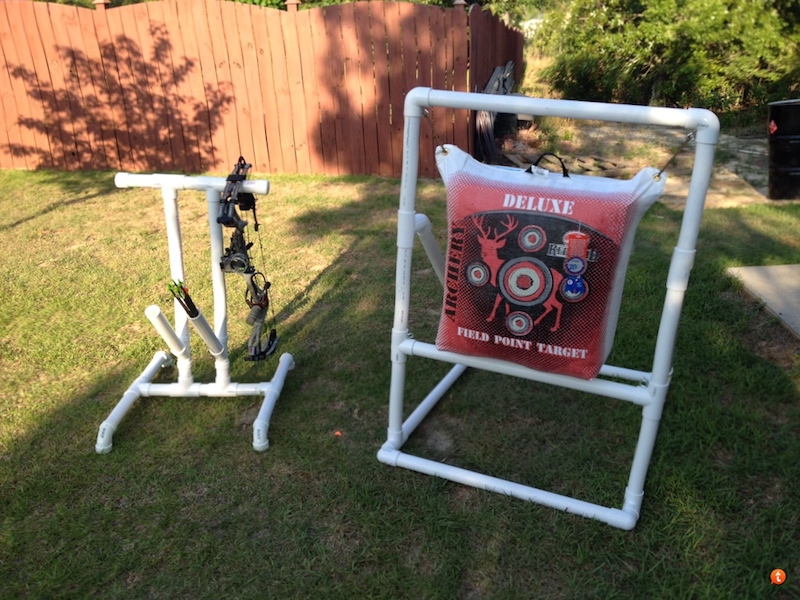 Building a target stand lets you control the stand's dimensions. You can customize it to your target by adding the necessary PVC pipes. Whenever you buy a target, adjust its stand by modifying the number of pipes in the structure. You can also make a bow stand from PVC pipe by building a frame with two open pipes extending to the sides for hanging your bow. Face another open tube upward to hold your arrows. Target stands made from wood can also be customized.
You can go even further by building an enclosed wooden stand. Secure a wooden plank over the top of the stand to act as a ceiling, and attach a board to the front with a hinge. That lets you flip the cover up and down at your leisure to protect the target from the elements and provide easy access when it's time to practice.
Also set up a backstop behind every target to catch roguearrows. You could even tape a paper target to the backstop. The best backstop materials are hay bales, horse stall mats, foam-plastic playmats, and stacks of cardboard. Hay bales are relatively inexpensive, but require frequent fluffing and adjusting after every session. Mats cost far more but last longer. Cardboard boxes are another option. They let you replace material anytime you pick up a new box. These materials are sturdy enough to stop arrows, but pliable enough to let you remove arrows safely.
Once you've checked local regulations and visited a nearby archery shop for a tune-up or new equipment, try these tips for creating a backyard range. You'll have fun launching arrows any time of day, including weekend mornings between sips of coffee.